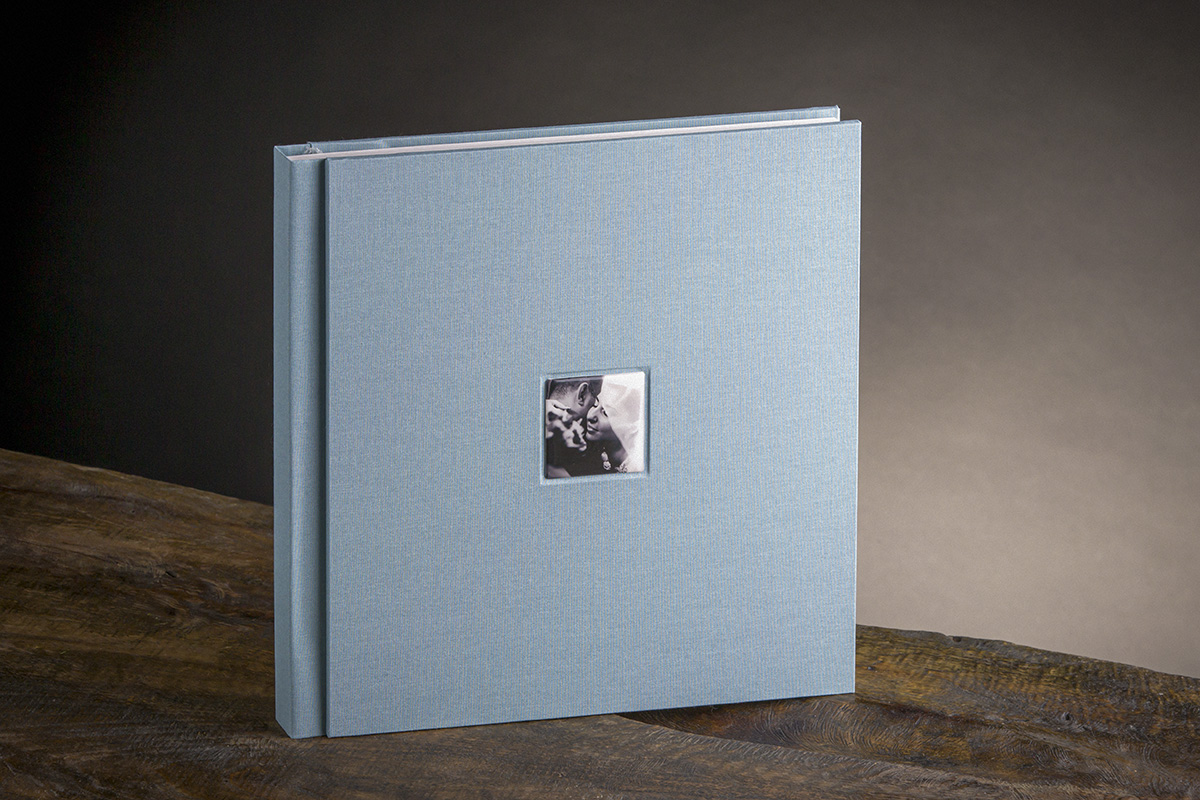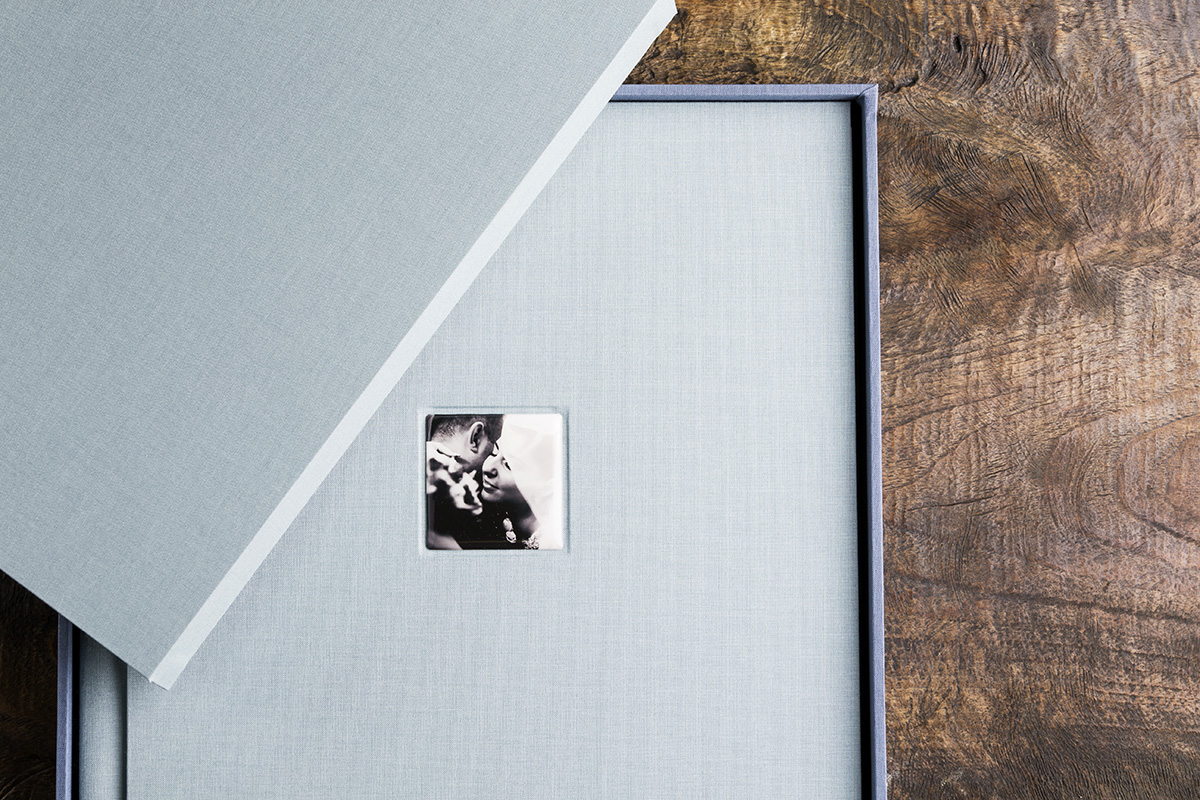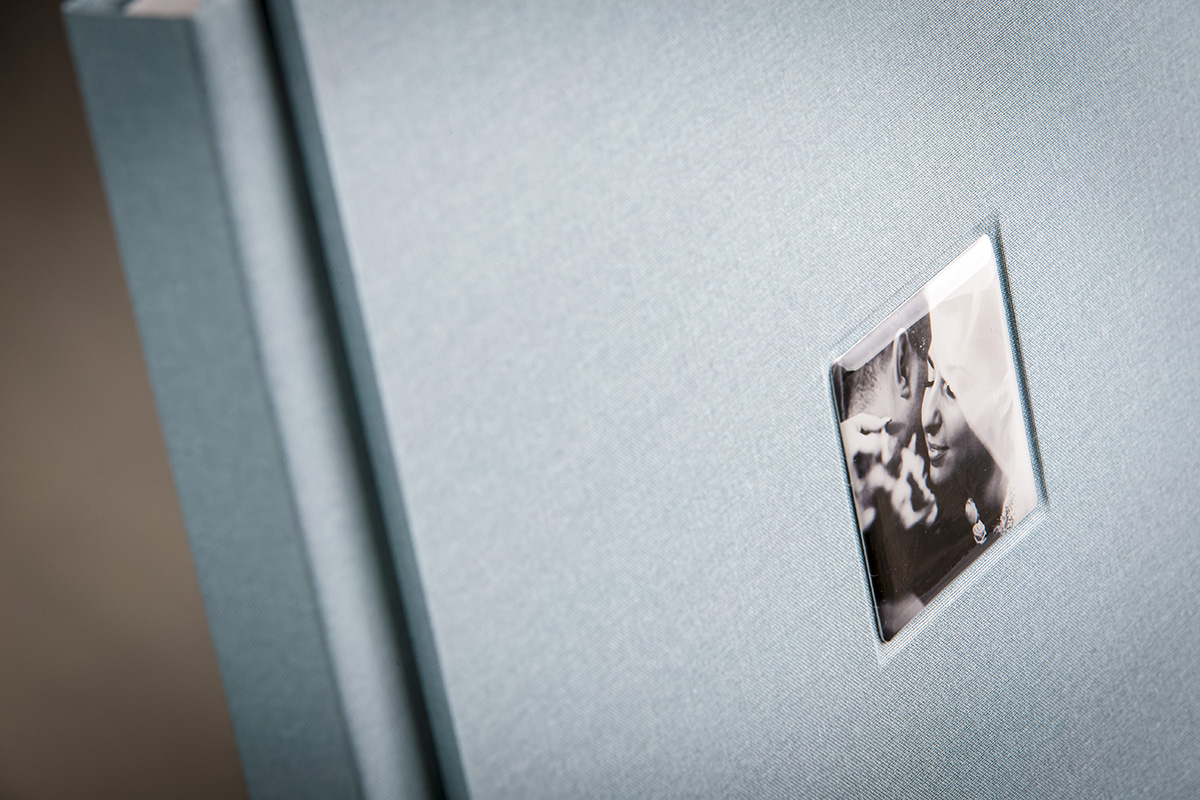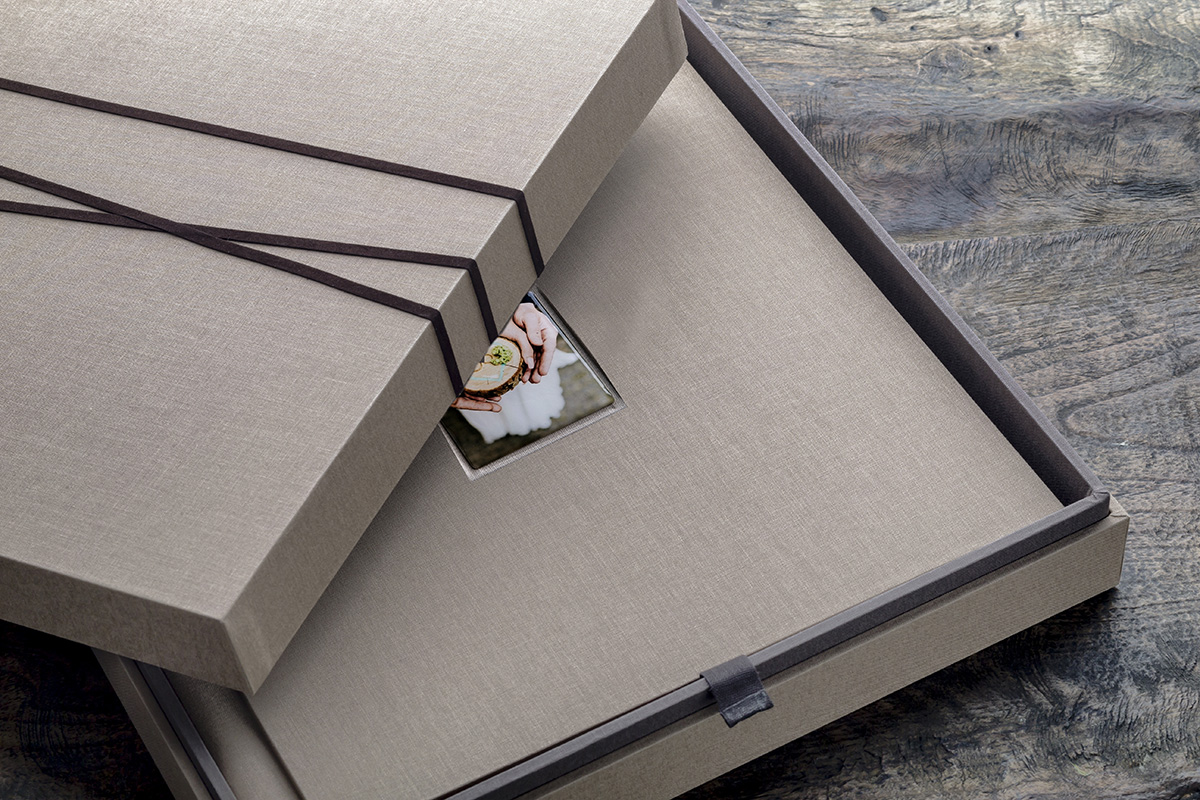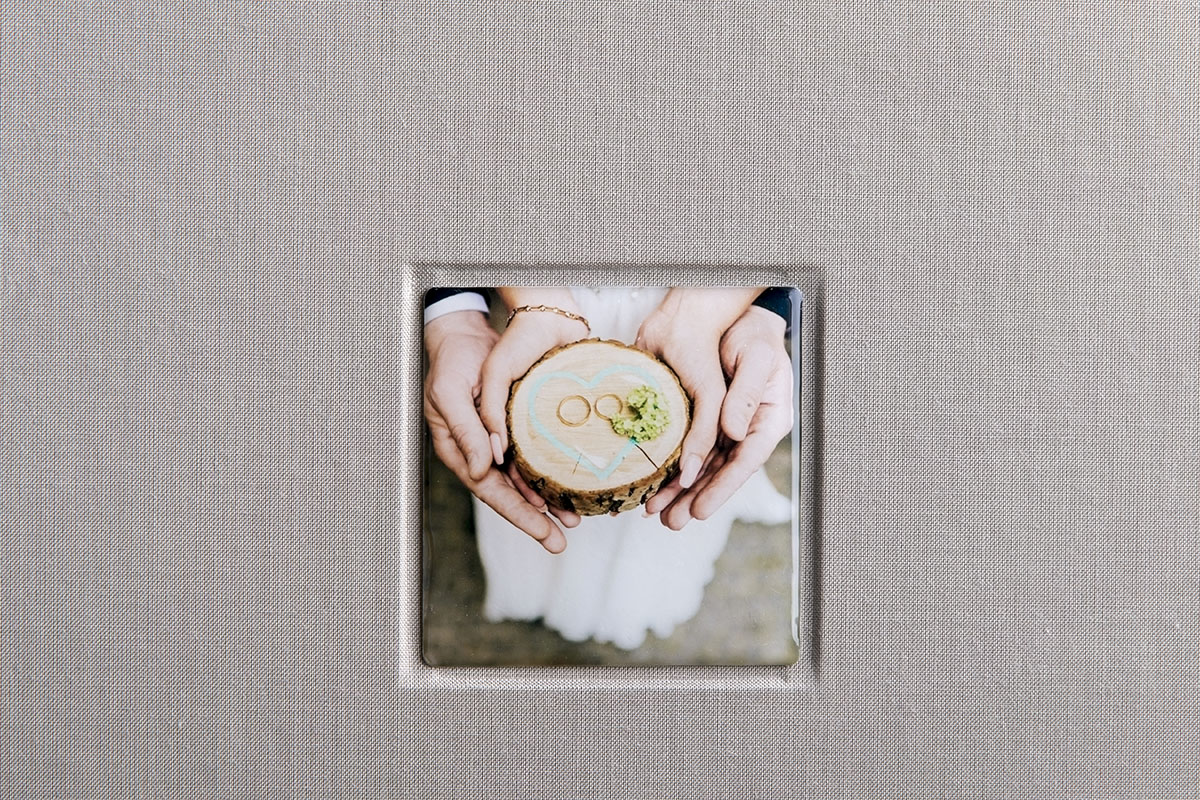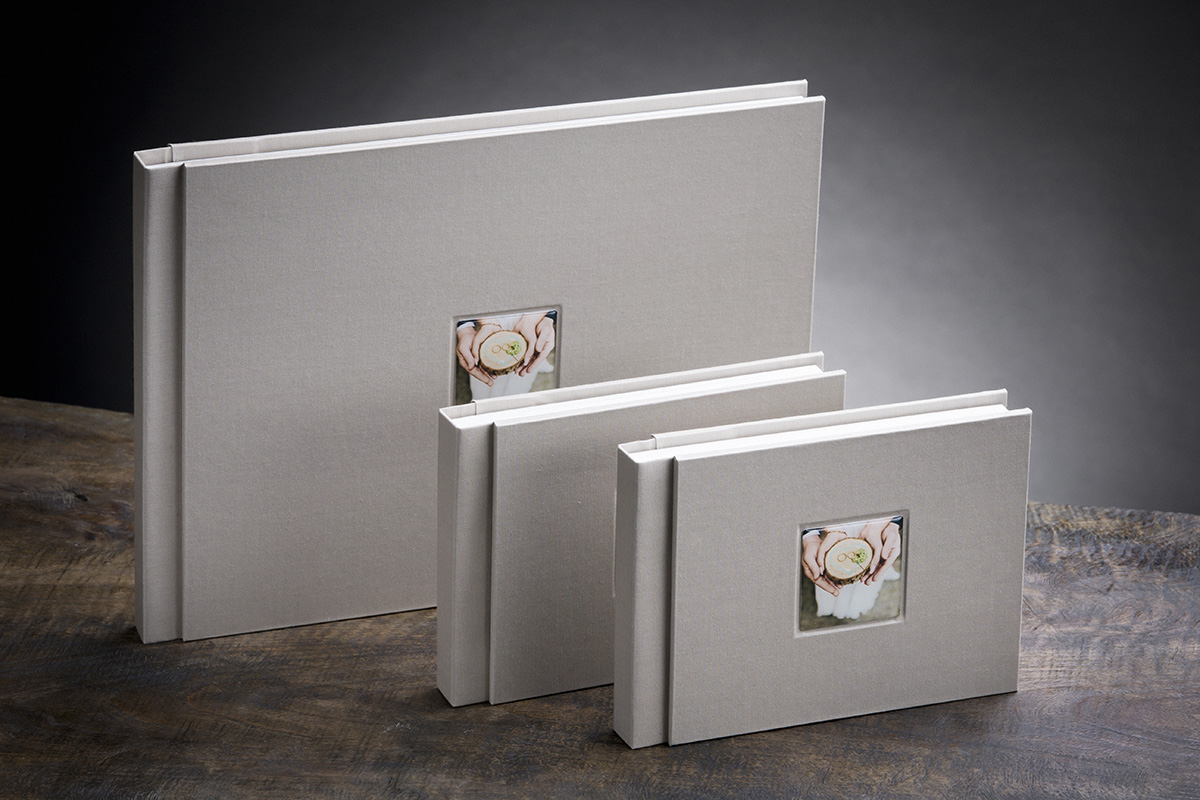 LANDSCAPE

35×25 cm | 13×9,5 in
40×30 cm | 16×12 in

SQUARE

30×30 cm | 12×12 in
35×35 cm | 14×14 in
Cellulose Fiber Paper

Soft and velvety surface with an authentic matte finish and optical white.

100% Cotton Paper

Matte paper with natural white and a slightly textured surface.

MATERIALS AND COLOURS FOR THE COVER
Ambra Wedding Album can be covered in Ecoleather, Matt Canvas, Duo Canvas and Bright Canvas.
In this elegant wedding book the image is highlighted by a particular process: it is first "crystallized" and then placed in a socket in the center of the cover.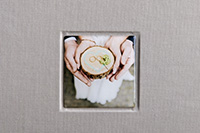 All of our Fine Art Books are delivered inside the Ecobag, a lightweight and versatile cotton bag.
The Ecobag is made of 100% Cotton and is equipped with an internal pocket to hold the cotton gloves. It is the ideal choice for those who want a case with little impact and at the same time perfect to protect the Album.
You can choose to integrate your album with one of our luxury packaging, made and coated entirely by hand: the precious One Box, the refined Flip and the elegant Snug.
Traditional Books, given the higher weight compared to Fine Art Books, are always supplied with one of the coated boxes to ensure greater protection and resistance.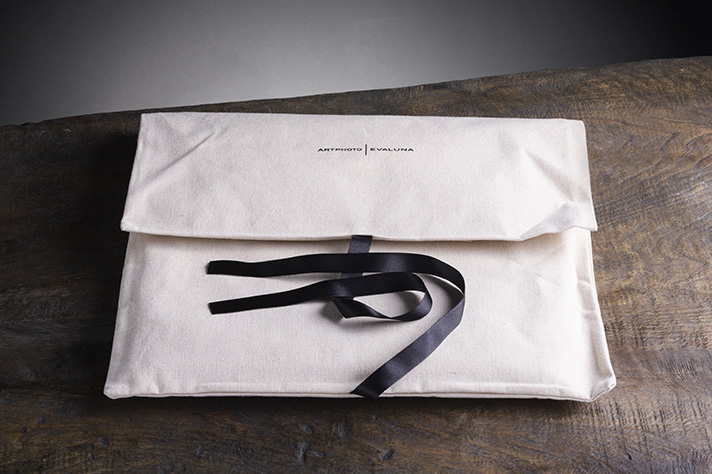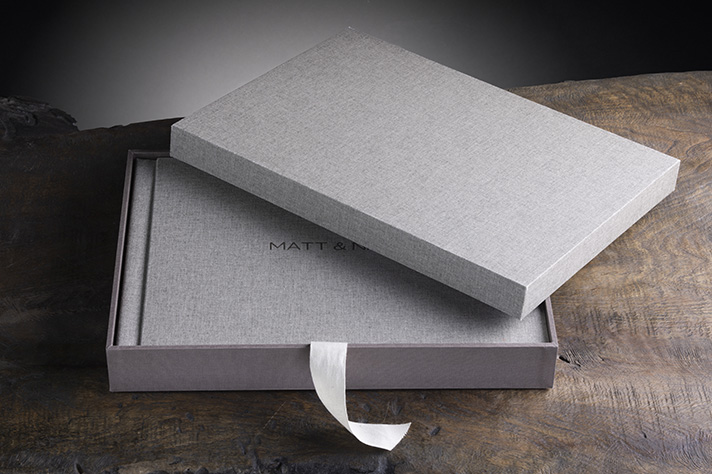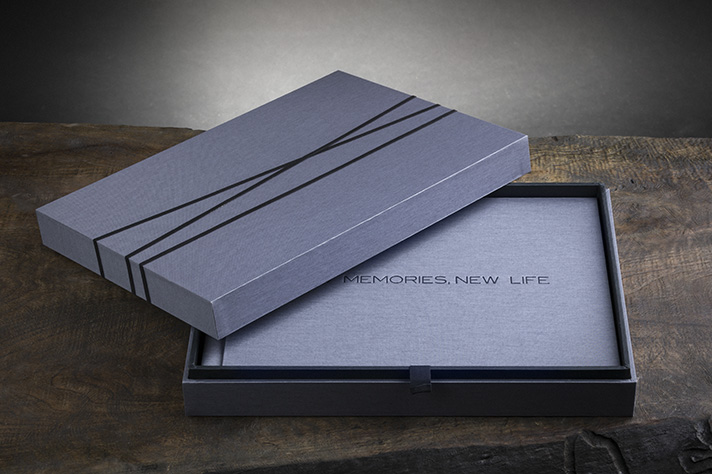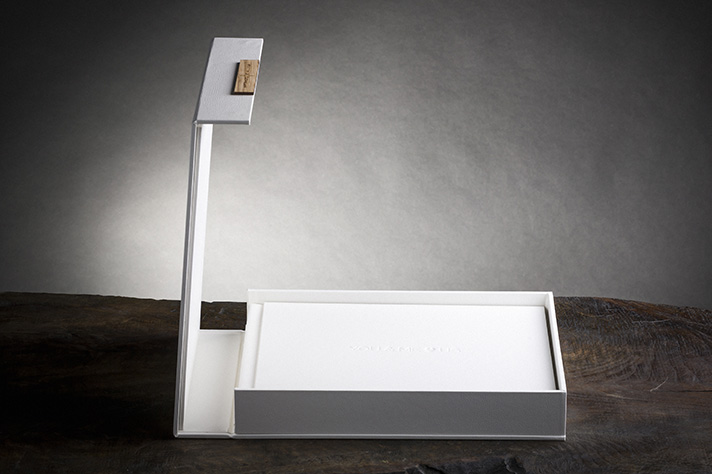 20x14 cm | 8x5,5 in

for Album 35×25 cm | 13×9,5 in

20x15 cm | 8x6 in

for Album 40×30 cm | 16×12 in

20x20 cm | 8x8 in

for Album 30×30 cm | 12×12 in and 35×35 cm | 14×14 in
Parents' Book are the smaller copy of the main album and can only be purchased along with the main album.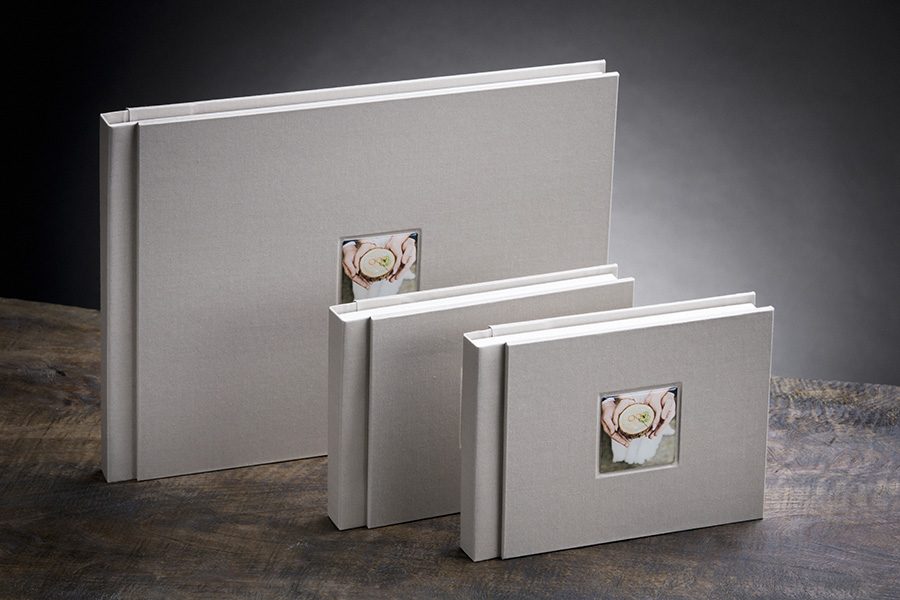 A WEDDING ALBUM WITH A STYLISH PHOTOGRAPHIC INSERT
Ambra is a Wedding Book that can be made of Eco-leather or Canvas and is characterized by an insert in the center of the cover.
This wedding album is designed for all those who want an elegant and stylish product, where the photographic insert becomes a catalyst element. An image that triggers a special and unrepeatable bond between people, emotion, memory and silence, freezed in the time of the shot.
We offer a wide range of selected textures and colors, for monochromatic uses or refined and minimal combinations, or exotic and sparkling match.
Along with the fabric covers, we describe nature and all its wonders. We can feel the intense pace of night and day and in the shades of unexpected colors we can glimpse the dawn and the warm atmosphere of sunset.
Take your time to choose from the pastel colours of the Matt Canvas, the vibrant patterns of the Duo Canvas, the natural shades of Linen or the shimmering surfaces of the Bright Canvas.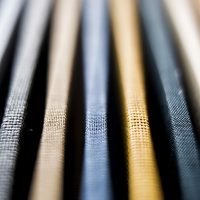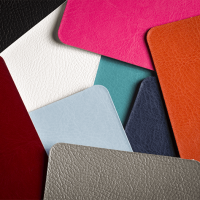 In compliance with our company's principles of environmental sustainability, we do not use any animal skins or derivatives to create our Albums.
Our Ecoleathers are distinguished by the extreme softness that gives a pleasant tactile feeling and for the perfect aesthetic integration with both the Fine Art Book and the Traditional Book.
Manufactured entirely in Italy and solvent-free, these materials are certified and compliant with the strictest European standards for the production cycle and the chemical materials used.
FINE ART BOOK AND TRADITIONAL BOOK: TWO DIFFERENT SOLUTIONS WITH CONTEMPORARY DESIGN
Così simili fuori e così diversi dentro! I Fine Art Book e i Traditional Book hanno ognuno un proprio inconfondibile feel, ma sono uniti dall'elevato standard di qualità di un prodotto realmente Made in Italy.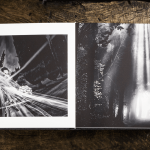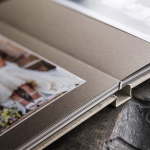 All our Fine Art Book are printed with the best Epson Ultrachrome HDR printing technology. As for Fine Art Papers, you can choose between two surfaces of the highest quality: one in Cellulose Fiber and the most valuable 100% Cotton Paper.
Print Quality is ensured by our Laboratory Team's experience plus Epson printers and original inks, which are constantly renewed and implemented.
The Traditional Album's pages are made with Materica Papers, also 100% Cotton Fiber.
Each page can be covered with photographs with a maximum weight of 255gm.
During mounting, you must remove the card stock inserted between the pages only while you're replacing them with the prints. In this way you can ensure the same thickness of the block and preserve your album at its best.
Whatever version you choose for your Artphoto Evaluna Wedding Album, there are three features that will make this product unique.
Pages with "a soul" to obtain maximum support with a minimum thickness. A result with a sober and refined design guaranteed by the right weight of the papers used and the thin "soul" in-between the pages.
A 180° flat opening, a truly distinctive feature for modern Albums. Perfect for an easy vision of the photos, extremely comfortable to leaf through.
A discrete binding, an element of recognition of all Evaluna albums, which in the case of the Fine Art Book becomes fundamental. This feature minimizes the impact on the print, making it possible to position the images even across the pages, over the folding line.